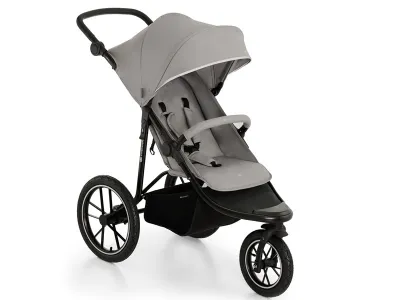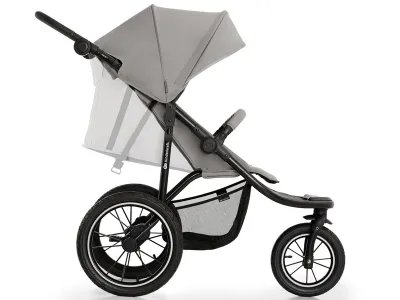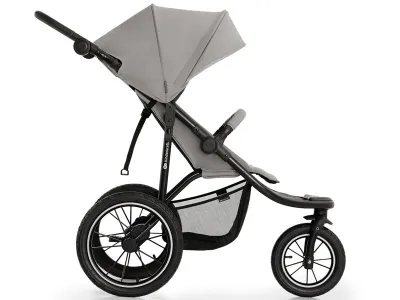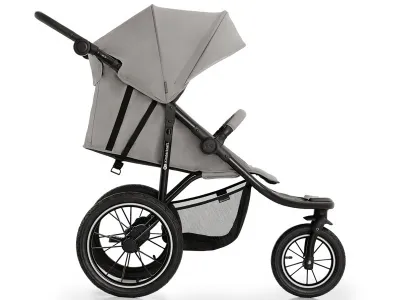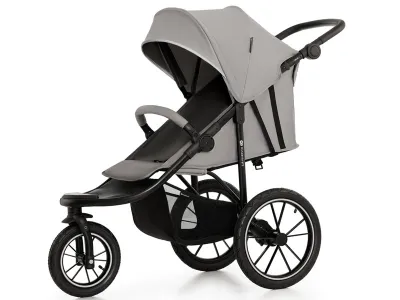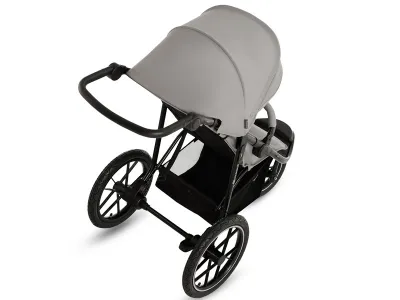 Kinderkraft Helsi pushchair - Dust Grey
Active time with family! Thanks to HELSI, you will be able to continue your passion for sport and pass it on to your child from their first days of life.
Direct Delivery 2-5 days, get it by 2023-12-14
100% Secure Payments

Active time with family! Thanks to HELSI, you will be able to continue your passion for sport and pass it on to your child from their first days of life. This sport pushchair has three large wheels, a stable construction, and safe solutions, thanks to which you will be able to enjoy active walks with your child. HELSI is suitable for both asphalt and hard forest paths. The roomy basket under the seat will fit all of Your accessories.
The rear axle suspension and air-pumped wheels make HELSI a perfect pushchair for daily walks, regardless of the surface. You can easily customise it for yourself and your child thanks to the adjustable parent handle and adjustable backrest up to the lie-flat position. You can also buy universal adapters for the stroller, allowing you to attach a 0-13 kg* car seat to the frame. Adapters and car seat are sold separately.
Sport pushchair up to 22 kg
HELSI is a pushchair for those who, except for the traditional walks, value outdoor activity and contact with nature. It is dedicated to children up to 22 kg. With this pushchair, you can enjoy your favourite physical activity without giving up spending time with your child.
Rear axle suspension
The three large air-pumped wheels have excellent suspension. They can handle all types of terrain, whether it's asphalt or a forest path. The construction has been designed to make the pushchair stable and manoeuvrable at the same time, so passing obstacles happen effortlessly.
Adjustable parent handle
HELSI takes care of parents' correct posture during walks. You can easily custom this pushchair to your height with an adjustable handle.
Adjustable backrest
HELSI cares for more than just parent's comfort - the adjustable backrest allows you to customise the pushchair to your child. Does your little one want to participate actively in the walk? Or maybe prefers to sleep? It is enough to adjust the backrest to the appropriate position to make your child feel comfortable throughout the entire time.
The basket under the seat
Water, snacks, an extra jacket... And on top of that, a pacifier, wet wipes, and toys. Instead of bringing a backpack, pack all the accessories into a roomy basket underneath the seat.
Universal adapters
The pushchair's frame is designed to fix a 0-13 kg* car seat. If you have to leave the car for a moment and your little one has fallen asleep, simply clip in the car seat onto the pushchair's frame. Adapters are sold separately.
Easy transport
This sporty stroller can be folded in just a few moments, so you can put it inside the car boot. Outdoors training? Or perhaps active sightseeing? HELSI is a perfect travel companion wherever you go.
Safe solutions
The pushchair's frame is very durable and stable. In addition, HELSI is equipped with 5-point safety harnesses that can be easily adjusted. A bumper bar ensures additional safety for the child during training and walks.
*Be sure to check the pushchair's batch series before purchasing adapters! The possibility of attaching adapters applies only to the selected series of the HELSI pushchair that are listed on the producers' website
Additional information:
Pushchair for children from birth up to 22 kg
3 large air-pumped wheels with shock absorption
Front wheel can be locked to drive straight
Rear axle suspension
Possibility to buy universal adapters*
Adjustable backrest
Adjustable parent handle
5-point safety harness and bumper bar
Under-seat large basket up to 5 kg
Useful brake
Materials:
frame: steel
wheels: rubber
material: polyester
Dimensions:
Folded: 87 x 59.5 x 48 cm
Unfolded: 128 x 59.5 x 113 cm
Wheels:
Front: 28 cm
Two rear: 39 cm
Additional dimensions:
Backrest length (lie-flat position): 77.5 cm
Seat: 36 x 22 cm
Backrest: 34 x 44 cm
Distance from the ground to the seat: 50 m
Parent handle: 71-113 cm
Weight: 10.8 kg