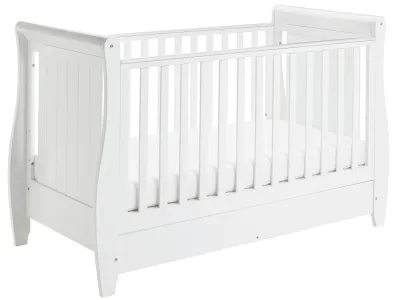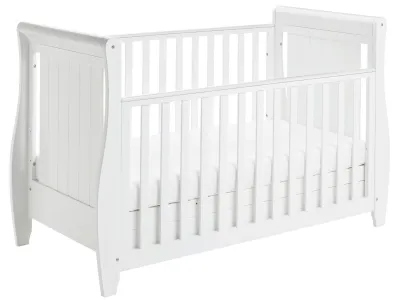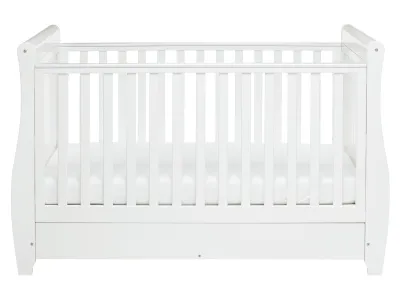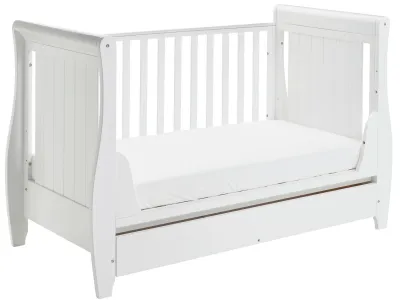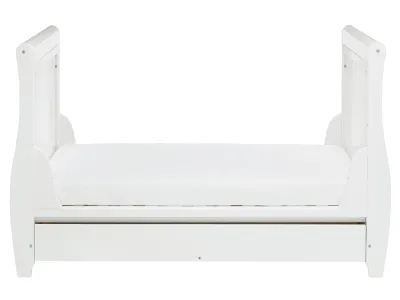 Babymore Stella Sleigh Drop Side Cot Bed – White
A modern classic sleigh cot bed, made of solid pine wood, Stella cot bed features smooth curves with pelmet on top of cot ends.
Pre order - Direct Delivery 2-5 days (When back in stock)
100% Secure Payments

The Stella Drop-Side Cot Bed is a spacious option that will last your baby from newborn up until around the age of 5 years old. It starts its life as a Cot, but as your baby grows, you can easily convert it into a stylish toddler bed and finally a practical mini sofa, which makes an ideal storytime area for your child.
As a cot, the Stella looks stunning with its classic sleigh features, which incorporate both smooth curves and unique panel-styled ends. The Stella Cot Bed is beautifully crafted in solid pine and finished in a contemporary white painted finish. This cot bed is a stunning piece of furniture that will look great as a statement piece alongside any other furniture collection.
At Babymore, we make all our products as versatile as possible in order to make parenting as easy as possible. The one-handed drop-side mechanism allows easy access to your baby, which is incredibly valuable if you have had a c-section or suffer from a bad back. The mattress has three different positions that get lower as your baby grows and becomes more mobile. There are solid teething rails on either side to help prevent tooth marks in the beautiful, solid pine. On a practical level, the Stella Cot Bed comes with a drawer fitted on runners to store all your baby's essentials.
The versatility does not stop at just the cot bed. The Stella seamlessly converts into a sturdy toddler bed, perfect for any little boy or girl—the beautiful sleigh lines are carried over to produce a stunning-looking toddler bed. You can also turn the Stella into a comfortable sofa that your child can use to relax on while they read the latest book in their collection.
Specifications
Assembled Size: L 161 x D 76 x H 100 cm
Mattress Size: 140 x 70 cm
Wood: Solid Pine
KEY FEATURES
Suitable from birth to approximately five years old
Compatible with all Babymore 140cm x 70cm mattress ranges (Not included)
Single hand drop side mechanism
Three adjustable bed base positions
Protective teething rail on top of both sides
Full width drawer on runner
Easily converts to a toddler bed
Converts to a sofa
Meet the latest British and European safety standards
Assembled Size: L 161 x D 76 x H 100 cm