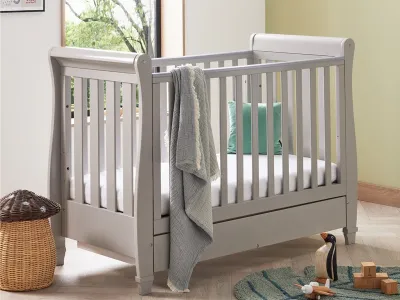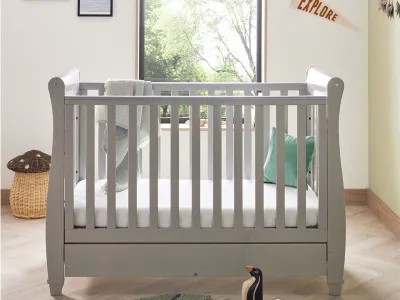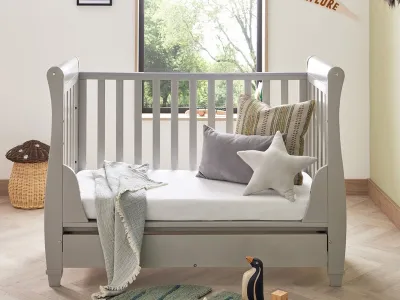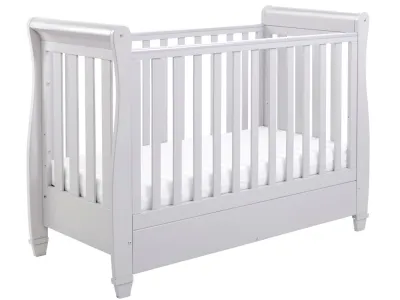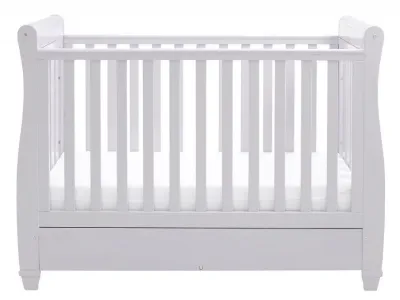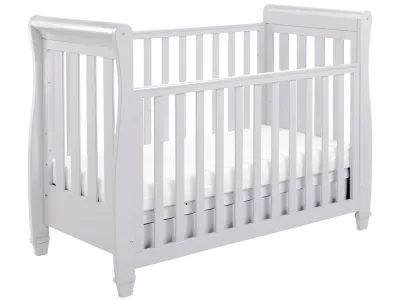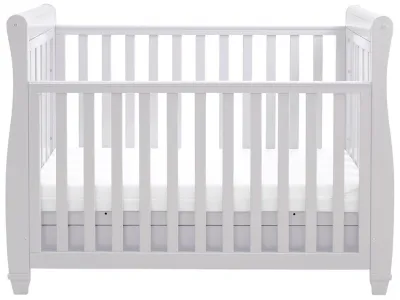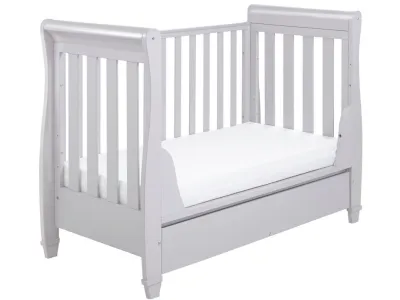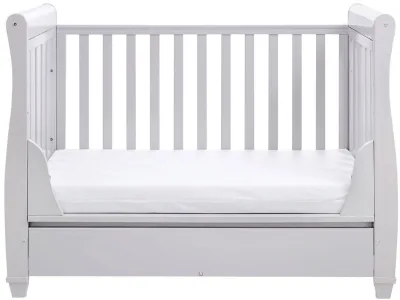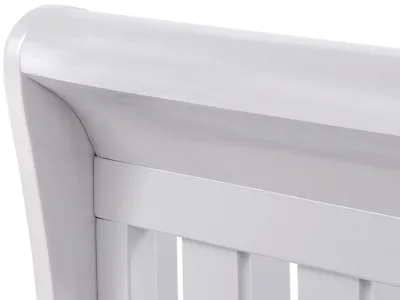 Babymore Eva Sleigh Drop Side Cot Bed - Grey
The Eva sleigh cot bed is designed with full of style and versatility, the classic curves compliant either traditional or contemporary scheme. The cot bed made of solid pine wood, unmistakable modern classic cot bed, features every convenience function of modern cot bed.
Pre order - Direct Delivery 2-5 days (When back in stock)
100% Secure Payments

The Babymore Eva Sleigh Mini Cot Bed to Toddler Bed can be used from the moment your baby is born until he or she is about four years old, at which point he or she can transition to a single bed. Eva Sleigh's innovative design allows it to be transformed into a sofa, so you may keep using it long after your child has graduated to a full-size bed. The strong birch wood used in the Eva Sleigh cot bed's construction ensures that it will last for the lifetime of your child.
The Eva Sleigh's striking arched top and classic white finish are undeniably eye-catching. You may make a bold design statement in your baby's room thanks to the sleigh's beautiful curves.
The Eva Cot's incredible adaptability includes a drop side mechanism that makes it simple to get to your newborn, even after a C-section. Protect your cot from the gnashing teeth of your toddler with the built-in teething rails on either side. Practically speaking, there is a large drawer for stowing away baby's belongings.
Three different mattress heights are available on the Eva Sleigh Cot Bed, making it the perfect sleeping environment for your growing baby. The Eva can be quickly transformed from a cot into a beautiful toddler bed once your little one is ready to graduate from the cot. But the Eva Sleigh's usefulness doesn't end when the baby reaches toddlerhood, as it can be turned into a sofa, which is great for parents to cuddle with their kids while reading them bedtime stories.
Specifications
Suitable from birth to approximately four years old
Compatible with all Babymore 120cm x 60cm mattress ranges (Not included)
Single hand drop side mechanism
Three adjustable bed base positions
Protective teething rail on top of both sides
Full width drawer on runner
Easily converts to a toddler bed
Converts to a sofa
Meet the latest British and European safety standards
Assembled Size: L 137 x D 66 x H 100 cm
KEY FEATURES
Single hand drop side mechanism
Three adjustable bed base positions
Easily convert to bed
Slats all round design
Protective teething rail on top of both sides
Full width drawer on runner
Birth to approximately four years old
Meet the latest British and European safety standards
Require UK standard cot mattress size – 120 x 60 CM (Not included)