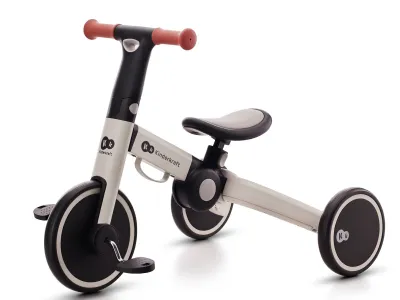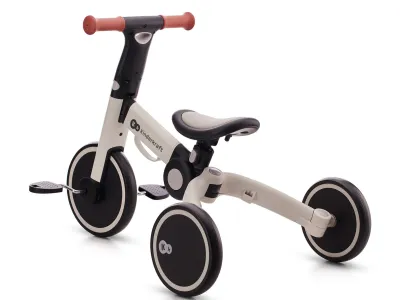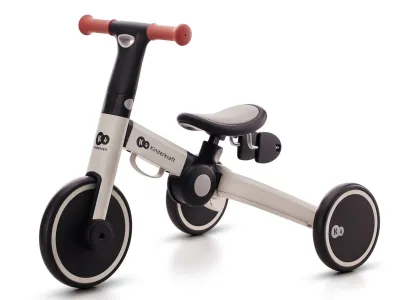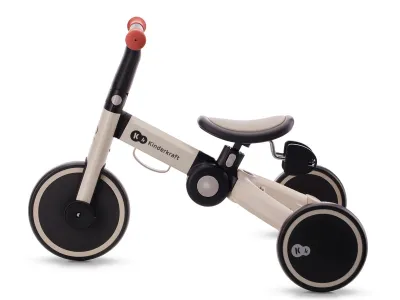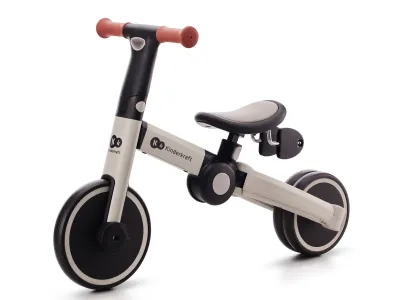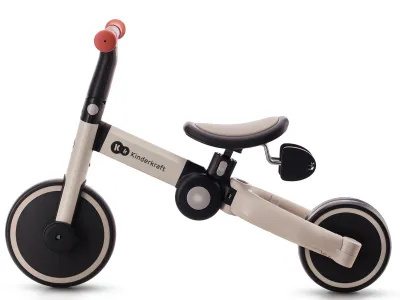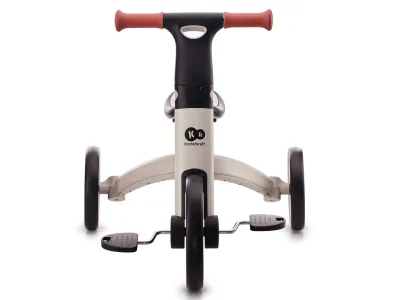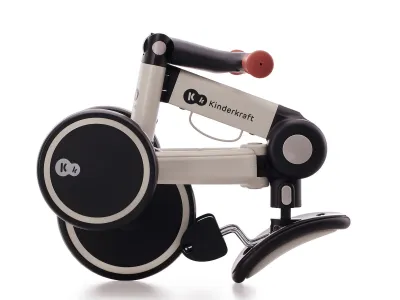 Kinderkraft 4TRIKE Ticycle/Balance Bike - Silver Grey
The folding 4TRIKE tricycle is the perfect companion for playtime out in the fresh air, irrespective of whether your child wants to ride the trike or the mini balance bike.
100% Secure Payments

The folding 4TRIKE tricycle is the perfect companion for playtime out in the fresh air, irrespective of whether your child wants to ride the trike or the mini balance bike. 4TRIKE combines three products in one:
a mini pusher bike (a ride-on for children up to 12 months),
mini balance bike,
a tricycle with pedals.
Imagine fresh air and the wind in your child's hair, with the sun kissing your youngster's laughing face. Take the helmet in one hand, and the lightweight bike in the other, and discover the unknown with your child in any season! 4TRIKE has been designed to support your child's gross motor skills.
The 4TRIKE tricycle adapts to your growing youngster's skills – it allows your child to enjoy riding already from 12 months. It will instil a love for exercise while allowing them to safely learn how to ride a bike. 4TRIKE is a unique children's bike that lets you quickly change its function without needing to use tools. Thanks to the aluminium frame, it's lightweight, and that's why when your child decides to discover the world on their own, you can easily hold the bike using a special handle on the handlebar and take it with you to be able to run after your little traveller.
If your child likes variety, they'll find something new every day with 4TRIKE. Your little one can decide which function of the bike they want to use at any given moment – and you can change it in just a few simple moves. The adjustable seat lets you even better adapt the bike to your child's height, and the non-slip handles improve grip for little hands. The careful finishes, round shapes and solid foam wheels increase your child's safety while riding. 4TRIKE is ideal for learning to ride: it's equipped with limited handlebar turning to minimise the risk of losing balance and falling over. In addition, you can detach the pedals at any time (to change 4TRIKE from a tricycle to a balance bike) and conveniently store them under the seat. They'll always be on hand.
And when it's time to return home, you can easily fold the bike to a compact size and put it into the basket of your pushchair. The small size means that after you finish playing,4TRIKEcan be put into a wardrobe or in the corner of a room, as it doesn't take up much space. The 4TRIKE tricycle can also be used indoors. Rain is no longer an obstacle – your little one can learn to ride at home! The foam tyres are quiet and won't scratch the floor. You can also take it with you on holidays – the compact size and option of folding make it perfect for all types of trips. Get carried away while playing with 4TRIKE and make every walk unforgettable.
Benefits
Safety:
The limited handlebar turning prevents excessive, sudden turning of the handlebar while learning to ride the bike.
The non-slip handles provide little hands with a firm grip and better control over the handlebar.
The careful finishes, rounded edges and no protruding elements help prevent injuries.
The solid foam tyres without any openings or spokes increase safety while riding – they're great for both learning to ride at home and playtime outdoors. They're also lightweight and durable.
Convenience:
The comfortable, anatomically profiled seat will make even long rides a real joy for your little one!
4TRIKE allows you to easily and quickly change its function without the need to use tools. You can do this at home before leaving, or on the walk while your child is playing!
The pedals can be detached without the use of tools (to transform 4TRIKE from a tricycle to a pusher bike) and clipped in under the seat. They're always on hand and won't get lost on walks.
The special handle on the handlebar is for carrying the bike. If your little one decides to run around on their own at the playground, or you need to take 4TRIKE up some stairs, the handle will make this easy.
The solid and ultra-lightweight aluminium frame means that 4TRIKE is both durable and easy to move. The frame is also resistant to corrosion.
A smooth mechanism and practical buttons enable you to conveniently switch between functions and fold the trike. You can easily take it in your hand or put it in your pushchair basket.
The fact that it folds to a compact size means you can fit it in even a small boot. It's also easy to store in a wardrobe.
Functionality:
3-in-1 tricycle–a mini pusher bike and ride-on for children from 12 months, a mini balance bike and three-wheeler with pedals.
The trike allows you to simply and quickly switch between functions. All you need to do is turn the wheels and bring them together until you hear a quiet "click", and lock them with the fastener! To transform the balance bike into the tricycle, pull out the fastener and unfold the legs.
4TRIKE is suitable for children from 12 months to approximately five years (maximum 25 kg). The pusher bike can be used to approximately two years, the mini balance bike to four years, and the tricycle with pedals to approximately five years.
The soft seat is adjustable – it has an additional bar that allows you to adjust it by a total of four centimetres.
The bike is easy to assemble – all you have to do is unfold the bike and the handlebar, and then place the seat into the frame. And you don't need any tools! You can switch between functions in a few simple moves.
Composition Materials
Frame: aluminium
Wheels: EVA foam
Handlebar handles: TPR
Seat: TPU
Dimensions:
Unfolded bike:
Length: 88.5 cm,
Height: 50 cm,
Width: 43 cm.
Folded bike dimensions:
Width: 43 cm,
Height: 47.5 cm,
Depth: 34 cm.
Wheels (diameter):
Rear: 17 cm,
Front: 21 cm.
Others:
Height of handlebar from the ground: 50 cm
Height of seat from the ground: 27 cm - 29 cm and 33 cm - 35 cm
Seat-pedals: approximately 35 cm
Handlebar-seat: 30 cm
Lowest seat position: 27 cm
Highest seat position: 35 cm
Frame length: 52.5 cm
Handlebar width: 29 cm
Spacing of rear axle in the widest position: 45 cm
Distance from the ground to the seat: 28 cm -35 cm
Bike weight: 4.2 kg
Maximum age: 5.5 years
Maximum weight: 25 kg