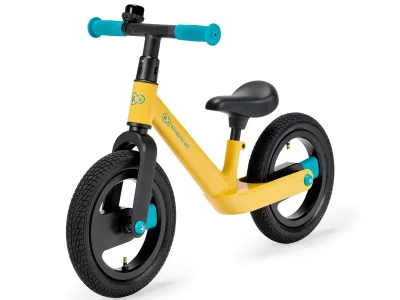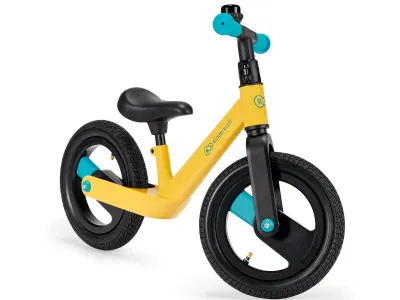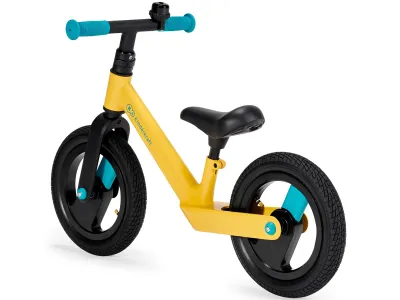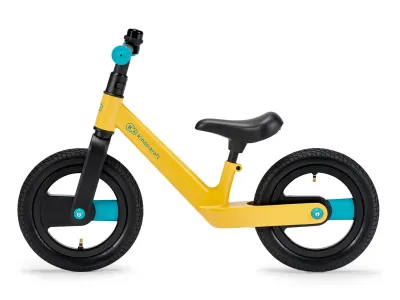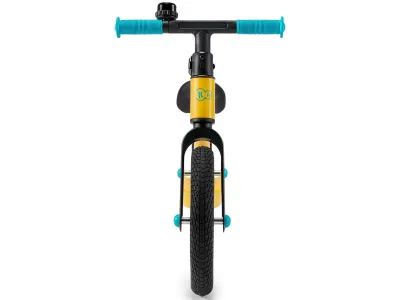 Kinderkraft GoSwift Balance Bike - Primrose Yellow
GOSWIFT is a sporty balance bike that develops your youngster's motor skills through exciting play, and prepares them for riding a real bike!
100% Secure Payments

Do you want to instil a love for sport in your child? Give them the gift of GOSWIFT – a sporty balance bike that develops your youngster's motor skills through exciting play, and prepares them for riding a real bike!
GOSWIFT won a prestigious award, called the Oscar of Design - Red Dot Award 2021 in the children's bikes category. This award positively evaluates not only the aesthetics of the bike, but also its adjustment to the needs of the child and the parent. GOSWIFT also won the prestigious Toy of the Year 2020 award. This distinction is a mark of quality, helping parents wisely choose safe toys that stimulate their child's development.
It's an ultra-lightweight balance bike with a magnesium alloy frame. Your child will absolutely love the safe, dynamic design, durable sports ball bearings and air-filled tyres combined with the adjustable seat height. GOSWIFT makes it possible for your little one to play in the fresh air while developing their motor skills. It's great in all conditions! Do you like taking a walk with your child in the forest? Or perhaps you prefer an even asphalt pavement? GOSWIFT can handle all terrains!
GOSWIFT has limited handlebar turning, which minimises the risk of losing balance when turning. The bike is carefully finished – there are no protruding elements. The low frame means that even a three-year-old child can feel confident when getting onto their new two-wheeler. Your youngster will also love the great looks, soft and comfortable seat and rubber capping on the handlebar, which improves grip for little hands. GOSWIFT will become your little discoverer's favourite playtime companion, and you can prepare for learning to ride a real bike together!
Benefits
Safety:
The solid wheels don't have spokes, and the sports ball bearings guarantee a comfortable ride and durability.
The limited handlebar turning prevents excessive turning of the handlebar while learning to ride. The risk of suddenly losing balance when turning is decreased.
The rounded edges and careful finishes of the bike help prevent injuries. GOSWIFT has no protruding elements.
The bike doesn't have pedals and the low frame allows even three-year-olds to easily get on and off, minimising the risk of falling over.
The handles are covered with non-slip material to ensure a firm grip for little hands.
Convenience:
The ABEC-7 sports ball bearings provide even greater comfort while riding on various terrains. Together with the air-filled tyres, GOSWIFT will let your child confidently ride on all types of pavements as if they were on a real, professional bike!
The magnesium alloy frame makes the bike very durable and lightweight (4 kg). This means you can easily carry GOSWIFT if your child decides to run around at the playground.
The magnesium alloy makes the bike ultra lightweight: the specific weight of magnesium alloy is one-third less than aluminium and three-quarters less than steel! The frame is great at absorbing vibrations, and is 100% recyclable and reusable. At the same time, magnesium, which the frame is made of, is durable and resistant to damage and corrosion. The bike will serve your child for many years.
GOSWIFT is equipped with a soft, comfortable seat covered with eco-leather. Even long, intense rides will be comfortable for your little cyclist.
The bike is slimline, and is easy to transport thanks to its lightweight properties. You can take it on an outing to the park or forest, as well as a trip to the grandparents.
Functionality:
The large, rubber air-filled tyres are ideal for riding in different conditions. GOSWIFT will perform well both on an asphalt alley and on a gravel path.
The adjustable seat means you can easily adapt the bike to your growing child. GOSWIFT will last your youngster longer, and will prepare them for riding a real bike.
Your little cyclist will love the loud bell!
Easy assembly: all you need to do is screw on the wheels and affix the handlebar (handlebar assembly doesn't require any tools, screwing or screws), and voilà!
Composition
Materials:
Frame: magnesium (magnesium alloy)
Wheels: air filled, rubber
Handlebar handles: TPR
Seat: eco-leather
Dimensions:
Length: 86 cm
Frame length: 58.5 cm
Height: 55 cm
Width : 33 cm
Height of handlebar from the ground: 54.5 cm
Wheel diameter: 12 inches/30 cm
Height of seat from the ground: 33 cm
Seat height adjustment range: 34 – 42 cm
Distance from the ground to the seat: 34.5 cm
Tricycle weight: 3.8 kg
For children: from three to six years