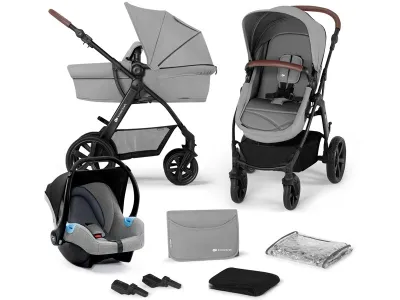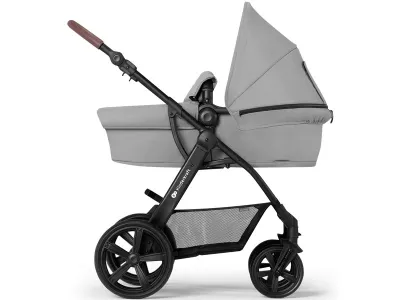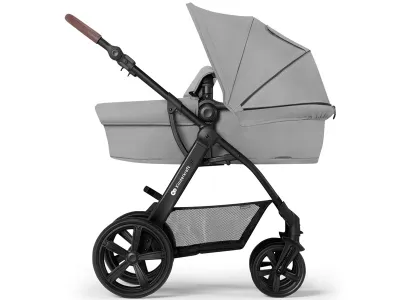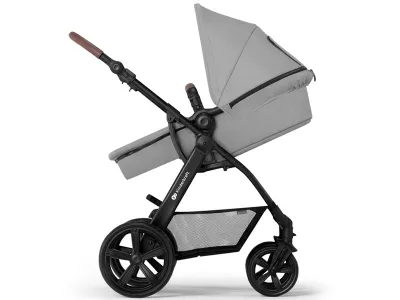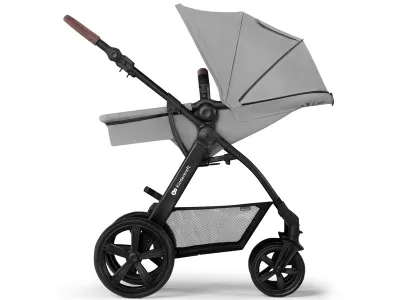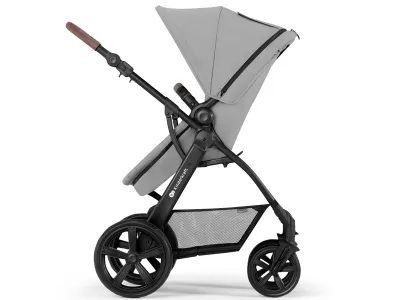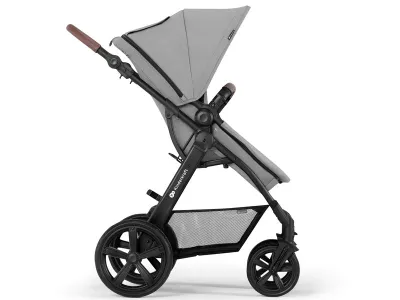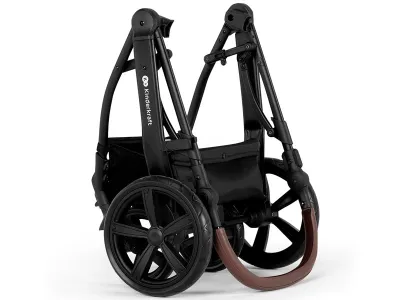 Kinderkraft Moov ct 3in1 Travel - System Grey
This is MOOV CT – a 3-in-1 pushchair designed for children from birth to approximately 22 kg. Thanks to the 2-in-1 seat, you'll have one element that you'll first use as a pram, and then as a stroller
100% Secure Payments

This is MOOV CT – a 3-in-1 pushchair designed for children from birth to approximately 22 kg. Thanks to the 2-in-1 seat, you'll have one element that you'll first use as a pram, and then as a stroller. One seat, two solutions, zero problems! Thanks to MOOV CT, you'll save money and space when storing individual pushchair elements. In addition, all you need is universal adapters* to affix the 0-13 kg car seat (included). This TRAVEL SYSTEM allows you to go on a quick shopping trip without needing to wake your child if they've fallen asleep in the car.
A lightweight, easy-to-manoeuvre pushchair that you can steer using one hand? That's MOOV CT! Four wheels with shock absorbers that don't need to be pumped up, two directions of travel in the stroller option, and three available functions–a pram, a stroller and the Travel System. It's a pushchair created for parents who want to make parenthood easier. You can adjust the seat using one hand, and the handle can be easily adapted to your height – you can configure the pushchair to suit both your and your child's needs in just a moment.
2-in-1 seat
Thanks to MOOV CT, you'll save money, time and storage space. Children grow out of prams at approximately six months – thanks to the 2-in-1 seat, in just a few moves you can convert the roomy pram into a stroller, clipping the material using special straps on the bottom. The soft insert (included) increases travel comfort for the entire period you'll need a pushchair.
Lightweight and easy to manoeuvre
You can steer MOOV CT using one hand. The sleek design and swivel front wheels, which rotate 360°, allow easy manoeuvring even on narrow alleys. The wheels can be locked to drive straight, which is handy on uneven surfaces.
Puncture-resistant wheels with shock absorbers
The pushchair is equipped with large wheels with shock absorbers that don't need to be pumped up. They're ideal for both the city and on beaten forest trails. They're resistant to puncture and abrasion, making them perfect for not only city pavements, but also gravel roads.
Multi-functional
It's a pushchair for special tasks. MOOV CT not only has a pram and stroller in one seat, but in the stroller function, you can also affix the seat facing towards or away from the direction of travel. This allows you to adapt the pushchair to the needs of your child, who may not be ready to let you out of their sight just yet.
TRAVEL SYSTEM
The set includes a 0-13 kg car seat and universal adapters*, which are compatible with many car seats from different brands. They allow you to affix the car seat to the pushchair frame. This means you don't have to wake your child to go shopping. Just a few moves and you're ready – you can be on your way without disturbing your little one's nap.
Tailored to the child and parent
The pushchair has an extendable hood, which protects your youngster in poor weather. Strong sun? A drizzle or cold wind? No problem – MOOV CT also comes with a rain cover, mosquito net, leg warmer and parent bag. In addition, you can adjust the backrest (three positions) and parent handle (eight positions) to tailor the pushchair to both your child's and your preferences!
Additional information:
● From birth up to 22 kg
● 0-13 kg car seat and adapters* included in the set
● STOP & RIDE brake – operated from the top
● Extendable footrest for older children
● The straps can be stored in the pockets (in the pram function)
● Wheels – rubber filled with foam (shock absorption, puncture resistant)
● Accessories: rain cover, bag, mosquito net and leg warmer
● Basket with a capacity of 4 kg
● Lock to prevent unfolding during transport
* The adapters can be used with the following car seats:
Kinderkraft: Mink;
Kiddy: Evoluna i-Size 2, Evolution Pro 2;
Cybex: Aton 5, Aton M, Aton M i-Size, Aton B2, Aton S2 i-Size, Cloud Z i-Size;
Maxi Cosi: Cabriofix i-Size, Pebble Pro, 360, Rock, Tinca, Citi;
BeSafe: izi Go Modular x1;
Britax Romer: Baby-Safe 3;
Avionaut: Pixel;
Nuna Pipa: Next i-Size, Lite, Lite lx
Specifications:
Materials: Frame: steel; Fabric: easy-to-clean polyester; Parent handle and guard rail cover: durable eco-leather; Wheels: rubber filled with foam
Dimensions:
Unfolded pushchair: 90 x 60 x 105 cm
Folded pushchair: 74 x 60 x 35 cm
Wheels: front 20 cm, rear 30 cm
Other dimensions: length of seat in lie-flat position: 82 cm; seat width: 33 cm; backrest width 33 cm; parent handle: 99-101.5-104-106.5 cm; internal pram dimensions: 33 x 82 x 20 cm; external pram dimensions: 44 x 90 x 16 cm
Weight: 19.4 kg
Weight of pushchair alone: 12 kg